Error 503 Service unavailable is an HTTP status code, which means that the website server is simply not available at the moment. Most of the time, it happens because the server is too busy or because maintenance is running on it.
error 503 may be customized by the website on which it is displayed or by the server software that generates it, so the ways in which you may see it vary considerably.
How can you see error 503?
Here are the most common ways you may see a "missing service" error:
503 Service not available 503 Temporarily no access to service Http / 1.1 service No HTTP server available Error 503 Service not available - Failed DNS 503 HTTP 503 error HTTP Error 503 Error 503 Service not available
503 Impossible errors can occur in any browser on any operating system, including Windows 10 back through Windows XP, MacOS, Linux, etc. ... even your smartphone or other non-traditional computer. If you have internet access, you may see 503 in certain situations.
The 503 Service Unavailable error is displayed in the browser window, as web pages do.
Note: Sites that use Microsoft IIS can provide more specific information about the cause of the 503 Service Not Available error by pressing a number after 503, as with HTTP Error 503.2 - Service Not Available, which means that the concurrent limit is exceeded.
How to fix it?
Error 503 Service Unavailbale is a server error, which means that the problem is usually with the website server. Your computer may have a problem that is causing a 503 error, but it is not likely.
However, there are a few things you can try:
Refresh the URL from the address bar by clicking the reload / refresh button or pressing F5 or Ctrl + R.
Although error 503 for the service is not present, it means that there is an error on another computer, the problem is probably only temporary. Sometimes we just try to make the page work again.
Important: If you receive an error message 503 when paying for an online purchase, which is not available, keep in mind that repeated payment attempts may result in multiple orders and multiple charges! Most payment systems and some credit card companies have protection against such things, but this is still something to know.
Restart your router and modem, and then your computer or device, especially if you see a "DNS Failure" error.
While error 503 is still most likely due to the website you are visiting, there may be a problem with the DNS server configurations on your router or computer, which a simple reboot of both can correct.
Tip: If restarting your equipment does not resolve the 503 DNS Failure error, there may be temporary problems with the DNS servers themselves.
Another option is to link directly to the help website. It is likely that site administrators are already aware of the 503 error, but notifying them or checking the status of the problem is not a bad idea.
Tip: If the 503 error website is popular and you think it may be completely down, a smart Twitter search can give you the answer. Try searching for #websitedown on Twitter, replacing the website with the site name, as in #facebookdown or #youtubedown.
Come back later. Since the 503 Service Unavailable error is a common error message on many popular websites, when the huge increase in visitor traffic (it's you!) Is overwhelming for the servers, just waiting is often your best bet.
Honestly, this is the most likely "fix" for a 503 error. As more and more visitors leave the website, the chances of a successful page load increase.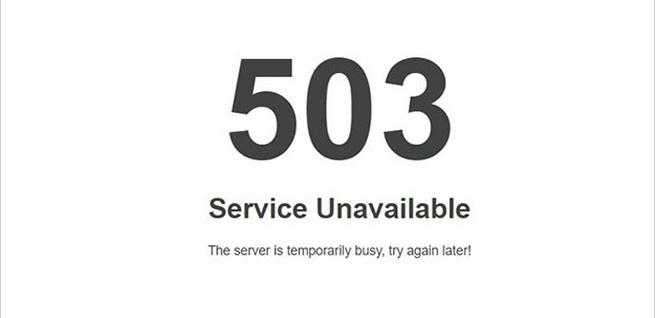 Fix 503 errors in your own site
With so many different web server options out there and even more common reasons why your service may not be available, there is "nothing you need to do" if your site gives you error 503.
That said, there are certainly some places to start looking for a problem ... and then hopefully it will be a solution.
Start taking the message literally - is there anything broken? Restart running processes and see if this helps.
Beyond that, look at less obvious places where something may have gone wrong. Where applicable, look at things like connection restrictions, bandwidth reduction, shared system resources, safes that may have been triggered, and so on.
Getting more traffic than your site is designed to handle almost always triggers 503.
More ways to see error 503
For Windows applications that have Internet access, error 503 may occur with the HTTP_STATUS_SERVICE_UNAVAIL error and possibly also with a temporary service congestion message.
Windows Update may also report an HTTP 503 error, but it will appear as error code 0x80244022 or with a WU_E_PT_HTTP_STATUS_SERVICE_UNAVAIL message.
Some less common messages contain 503 quota overruns and the connection fails (503), but the above troubleshooting applies to everyone.
If the Microsoft IIS Web server software is running on the website that is reporting error 503, you may receive a more specific error message such as one of the following:
503.0 The application package is not available. 503.2 Simultaneous request limit exceeded. The 503.3 ASP.NET queue is full
Conclusion
Error 503 Service Unavailbale is a server error and is therefore very much related to other server errors, such as error 500 Internal Server, Error 502 and Timeout 504, among others.
In addition, there are several HTTP status codes for the client, such as the 404 Not Found error, among others.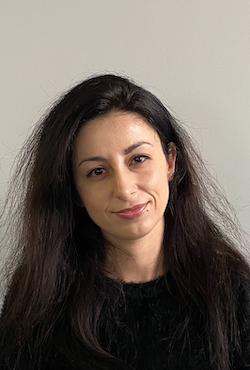 Nadejda Milanova
An experienced Content creator in the field of Search Engine Optimization (SEO) and WordPress. A true proffesional with a Master's degree focused on journalism.
Read more by Nadejda Milanova