The global network is a sea of information resources that is constantly growing. Most of them are free, but there are some conditions. To cover the cost of their own existence, many websites display ads in their content.
Some do it too aggressively and intrusively. Ad windows close important sections of the pages to force the user to click on them. Other websites display ads tailored so that they are not difficult to use, but work with them is slowed down anyway due to the loading of ad slots. Another issue is that some of them lead to dubious and misleading corners of the network.
We are sure many of you have come across advertising content in the middle of posts, around media players, and in general in places that are relevant to the use of a particular web resource. The presence of advertisements slows down the work with the websites, makes it difficult to navigate through a screen reader, puts the security of the user at risk. Not to mention the annoying video ads that simply prevent us from fully enjoying the media content.
How do we block ads from appearing on the web?
The availability of web browser add-ons that try to restrict ad serving is nothing new. In recent years, there has been a cat-and-mouse game between marketers and developers. Some try to circumvent the mechanisms of so-called "ad-blockers", while others try to limit as much as possible the ways in which ads are displayed.
The best ad blockers for 2021
Ad blockers are great for providing a seamless browsing experience. It is important to note that free blockers may not necessarily be the best option, but they may work well.
###AdBlock Plus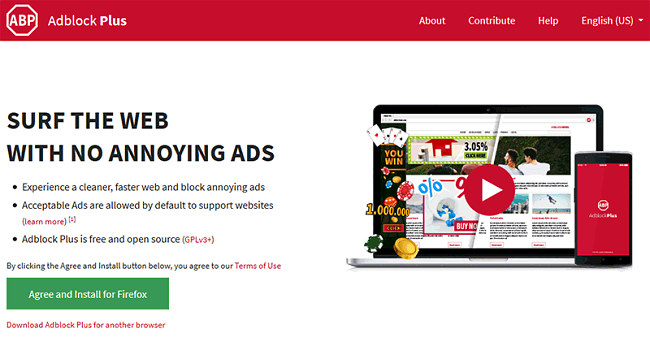 Probably the most popular ad blocker on the market,AdBlock Plus provides protection for Firefox, Chrome, Opera, as well as Android and iOS. AdBlock Plus blocks ads before they appear and gives you the ability to filter out malware as well as social media buttons so you can choose which ads to see. AdBlock Plus is an easy to set up and use application, so those who are not very technically advanced will be able to quickly find out how it works.
AdBlock Plus is a free service and does not work on a subscription basis. However, users say they accept payment from certain groups to whitelist their ads. The "unobtrusive advertising" option may annoy some, but you can turn it off manually.
Brave Browser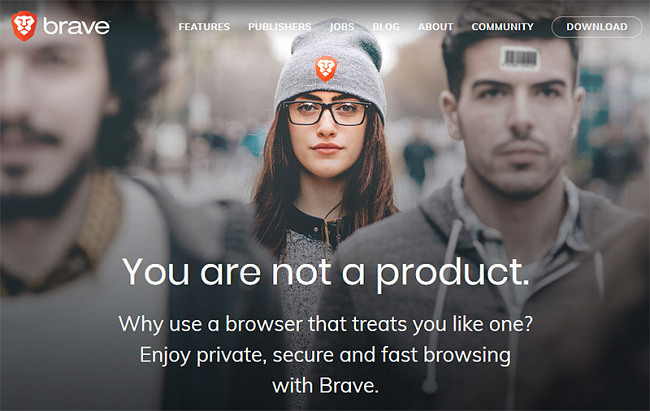 Brave Browser is available for Windows, Mac, Android and iOS. It offers a built-in ad blocking module and privacy options in an all-in-one package that does not rely on browser extensions to improve your privacy and security.
Brave Browser offers a system of Brave Payments, which are micro-contributions supported by the user. The money is donated to their publishing partners, so you can surf the Internet without any ads.
Opera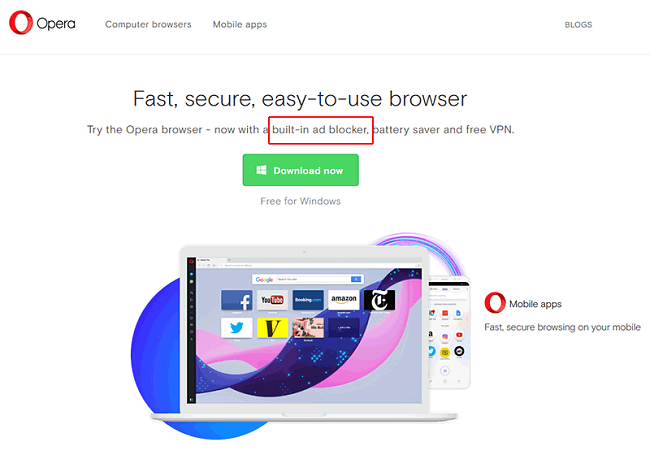 The Opera web browser has a built-in ad blocking module, so there is no need for any third-party extensions. In addition, Opera also blocks tracking cookies from many websites, resulting in anonymity and a confidential online experience.
Opera is gaining popularity with its well-featured interface and excellent performance, and they also offer a built-in VPN service for an extra level of security.
Opera is available for Windows, Mac, Android and iOS.
AdFender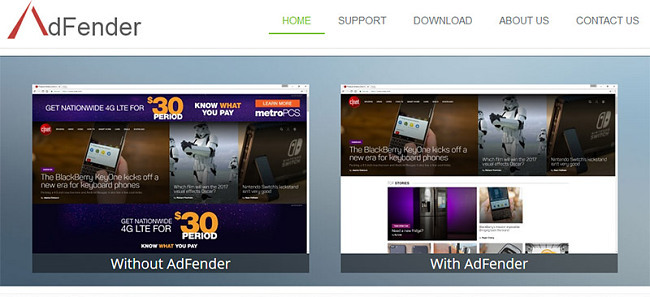 AdFender is a paid ad blocker and with good reason. This ad blocker is a great defender of net neutrality and does everything possible to make your browsing as confidential and secure as possible. AdFender allows you to surf with TOR, allowing you to surf anonymously as well as block video ads even on YouTube.
All AdFender features and settings are customizable, and you can view your browsing statistics to check your habits and blocked ads.
AdFender offers a free trial, and once it's expired, you'll need to renew your license every 12 months. We highly recommend AdFender, given the protection and privacy it provides.
Ghostery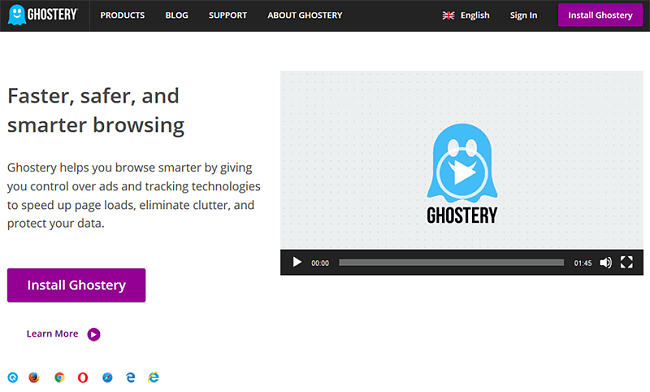 Ghostery has been in the ad blocking industry for a long time and remains one of the best. This ad blocker is available for Chrome, Firefox, Opera, Edge and Internet Explorer, as well as for Android and iOS (also for the Cliqz browser - owned by Ghostery's subsidiary).
It blocks all types of ads and trackers, and maintains a reliable service for its users, providing uncompromising security, confidentiality and reliability. By generating profits by selling anonymous data to third parties, Ghostery can remain free and completely safe. If you don't like the idea of sharing anonymous information, you can opt out.
The dangers of online advertising
In 2017, Google removed 112 million ads aimed at installing malware, viruses and tracking programs that record user activity online. The number and frequency of these ads is growing every year.
Pop-up ads usually seem like a harmless marketing experience, but their true purpose is malicious. Pop-up ads may be responsible for (and not only):
Implementation of spyware or extortion software
Track your activity online
Installing malware
All this is done without clicking on the ad, as the malicious content is loaded while the page itself is loading; this is a technique known as Malvertising. Malvertising cases have increased due to the growing popularity and frequent use of laptops, personal computers, phones, tablets, etc.
All the ad blockers listed in this article have been tried and tested. Whichever one you choose, you can be sure that you will never again be exposed to the risk of malicious pop-ups, videos or ads, which will provide you with a better browsing experience and a more secure device.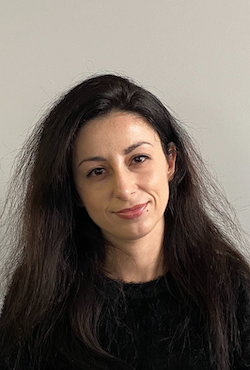 Nadejda Milanova
An experienced Content creator in the field of Search Engine Optimization (SEO) and WordPress. A true proffesional with a Master's degree focused on journalism.
Read more by Nadejda Milanova