Do you want to stop people from finding your website on Google? You can remove your website or a part of it from the search engine easily. There are many reasons why one might want to do this, such as information leaking too early, deleted pages, and outdated contact information.
Remove your website
When you're trying to delete a page, make sure you first delete the page itself and then log into your Google Search Console account.
The first condition for removing data from Google is to delete or change the page that is indexed. The second condition for removing data to remove the page from Google is to verify it with Google Search Console.
Removing your new website from Google
Building a new website is not an easy task. There's a lot of time, energy, and resources involved. But with just one minor slip-up, information about the site could easily leak to search engines and put it in the public eye long before you're ready for it. For example, if your URL is available as a result of a Google search, Google will index it. This would be unfortunate for you because you're not even done building it yet!
Building a new website is a delicate process. One wrong step and your "leak" might be uncovered. You might not know it, but such a leak might show up when you share a link to your unfinished website on Facebook with a small group of friends. It could also happen when you send the same link via email or Skype where somebody shares it with somebody else, and that person posts it online and it gets picked up by Google.
Before you ask Google to remove your website, make sure you've done your due diligence. Make sure the problematic site or page has been renamed and safeguarded with a password. To avoid any further trouble, we recommend removing the content entirely and avoiding the page altogether.
Now that you know which page or site address has been mistakenly seen by Google, go ahead and find it. It'll be quick and easy — just click on the unwanted Google search result.
Google has a removal page for pages that violate guidelines. To remove a page from Google, start by going to your Google Search Console and choosing "go to the old version" and "Google Index" > "Remove URLs". In the next view, choose "temporarily hide" and enter the exact address of the page you wish to remove. Then, select "Clear URL from the cache and temporarily remove from Search".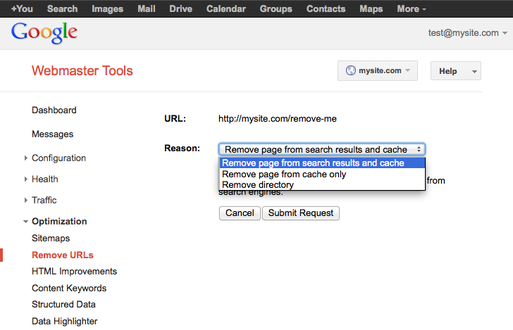 Clear up any old information you might have about your product line on the internet. When an old page is removed from a website, but still appears in search engine results, it's time to take action. Remove it and make sure to keep the information fresh and up-to-date.
Leaked information
Google can also index sites prematurely when you are just updating your site. Say your site is already indexed by Google, but you are working to update a section. You don't want it to appear in search results until it is ready, so you hide it from the menus. However, once you add a single link to the new section in any old, indexed part of your site, Google will jump in and index the new section too.
You need to make sure that your content is not publicly available. In addition to renaming and protecting the page with a password, you should take one additional step. Remove premature content from your page, publish it, and re-enter the information.
Cached content and search engines
Search engines are a goldmine of data, but sometimes the results display outdated information from a cached website. When this happens, you should inform Google about your updated site and invite them to index your site in their search engine again.
The Google cache can be a helpful tool, but if you need to remove a page from it, it can take some time. Here's how: First, enter the exact address of the page you would like removed and then choose "Remove page from cache only" as the reason.
How to cancel the request for removal?
After you submit your request to Google, the page or website will not show up in search results at least for 90 days. However, if the very same page or site is still accessible after those 90 days, then it may be indexed again.
But maybe you want your page to be found online before it's been indexed by Google for 90 days (e.g., you've finished adding content). To do this, you can delete your removal request in Google Search Console.
To ensure that your content is found by Google and all other search engines, you need to submit your website to their databases. One way to do this is with the Remove URL tool in Google Search Console. Select "Google Index" > "Remove URLs" from the menu on the right side of the page. Then select "show: Removed." Find the page you wish to reindex and click "Reinclude." After some time, your page should be reindexed.
When NOT to use the URL removal tool
Google's search engine can remove some results for your website if they are not relevant to the page. However, there are a few cases where Google does not recommend removal. For example, if a site's search engine displays results that link to pages that have been deleted, Google will take care of this on its own with a fresh update. Another instance when Google doesn't recommend removal is if you want to start over. In this case, you can submit a separate request or just start from scratch.
This means you want to see results without "www" (mysite.com) and don't want to show those with "www" (www.mysite.com). This will remove everything, including those without "www".
Conclusion
If your website has several domains, then you should check your search engine results across all of them. If necessary, go back and repeat the removal process with other domains as well.
Additionally, you should remember that Google is not the only search engine. Removing a page from Google's search results won't get rid of the indexed information on other search engines.
Why would I want to remove my website from Google?
There are several reasons why you might want to remove your website from Google. For example, if your website contains sensitive information that you want to keep private, or if you no longer want to maintain the website and would prefer that it not appear in search results.
How do I remove my website from Google search results?
To remove your website from Google search results, you can use the Google Search Console tool. First, you will need to verify ownership of your website by adding a verification code to your website's HTML code or DNS records. Once you have verified ownership, you can submit a removal request to Google by selecting the URL of the page or site you want to remove and following the prompts in the Removals tool.
Will removing my website from Google affect my website's SEO?
Yes, removing your website from Google search results can have a negative impact on your website's SEO. When your website is removed from search results, it will no longer receive traffic from Google, which can result in lower search rankings and less visibility. Additionally, removing your website from Google can impact your website's reputation and authority, as search engines use inbound links as a signal of the quality and relevance of a website.
Are there any other ways to remove my website from Google?
Yes, there are other ways to remove your website from Google search results, such as adding a "noindex" meta tag to your website's HTML code or using a robots.txt file to block Googlebot from crawling your website. However, these methods are not recommended unless you have a specific reason for not wanting your website to appear in search results, as they can have negative impacts on your website's SEO and visibility.
How long does it take for Google to remove my website from search results?
The length of time it takes for Google to remove your website from search results can vary depending on a number of factors, including the size of your website, the number of pages you want to remove, and the reason for removal. In general, removal requests are processed within a few days, but it can take up to several weeks for your website to be fully removed from search results.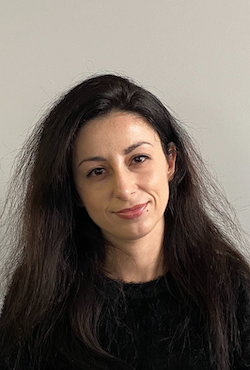 Nadejda Milanova
An experienced Content creator in the field of Search Engine Optimization (SEO) and WordPress. A true proffesional with a Master's degree focused on journalism.
Read more by Nadejda Milanova