Chrome is a powerful browser with many features to make browsing the web safer. One of these features is blocking websites. When you block websites on Chrome, it prevents you from accessing them. You can block specific sites, or your entire desktop or mobile devices. It's necessary to keep information secure on the internet. For example, it's wise to learn how to block emails, erase oneself from Google searches, or stop spam texts.
Using the Chrome browser is something that many people have done. Unfortunately, there are certain sites that you don't want to visit, but they are still allowed to load in Chrome, which means that you will be distracted by them. Fortunately, there is a useful option in Chrome that allows you to block websites.
Chrome is a best browser for all tech savvy users because of its amazing features. But sometimes while browsing on Chrome you need to block some websites on Chrome.
How do you block websites on Chrome?
There are several ways to do so in the Google browser. One way is by downloading a browser extension, which will stop you from accessing any given site. You can also block websites on your WiFi router, or by typing it into the URL of the browser and clicking "add." The web contains all sorts of viruses and malware that are constantly adapting to new devices. If you are looking to protect your devices, there are many ways to filter or restrict certain websites. For example, you can install software on your computer which blocks certain domains. If your goal is speed, you can use Chrome keyboard shortcuts to make web browsing even faster!
How to block websites on Chrome desktop
If you are using a desktop version of Google Chrome, you can set up a website blocker to keep distracting websites out. For example, BlockSite is a popular choice. Experts recommend it because it has more than one million users and is free to use. It's important to note that not all browser extensions are safe, so it's important to be careful which one you download.
BlockSite is an extension to the Chrome browser that disallows specified websites from being accessed. These sites are blocked by a password-protected list, so you can safely browse without worrying about stumbling upon something you don't want to see.
To install BlockSite, type "BlockSite" into the Chrome Web Store and click "Add to Chrome Button" > "Add extension."
Now you are ready to block websites. Copy and paste the website you want to block into BlockSite's settings. You can also use the BlockSite icon to quickly block a website with a simple click.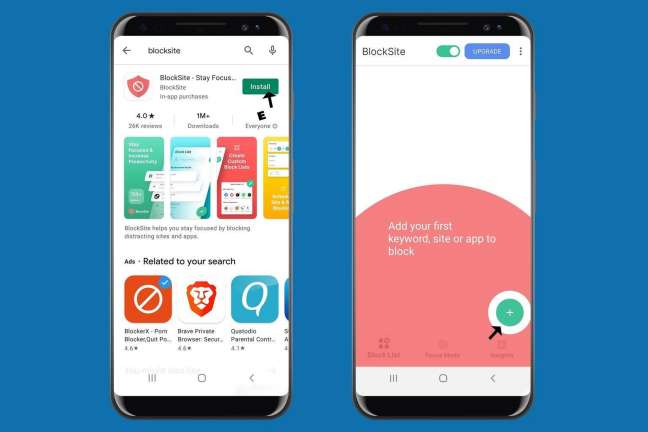 If you are looking for a way to block websites on your Chrome browser, BlockSite offers an Android app. For simplicity, follow these few steps.
First, download the BlockSite app from the Google Play store.

Next, grant BlockSite access to your phone's privacy settings.

The Chrome browser app has a way to block websites. To do this, type "+" and then type in the name of the website you want to block.

Once this is done, a sad-looking puppy will show up on the screen when you enter the website's URL.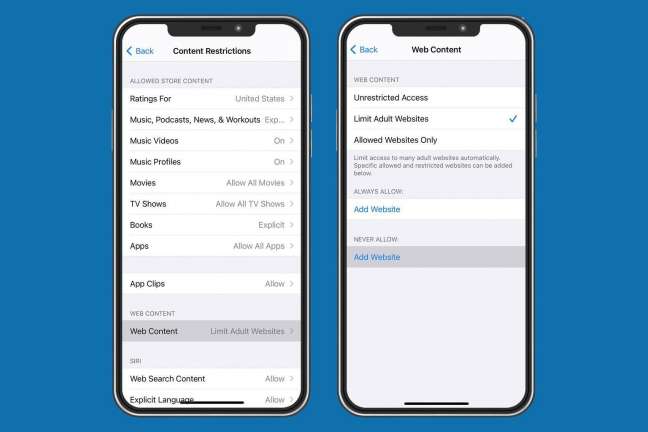 How to block websites on Chrome via iPhone
You can easily block websites on Chrome by using your phone.
All you have to do is open the Settings app, tap Screen Time > Content & Privacy Restrictions, and scroll down to "Web Content."
There, you can choose the "Limit adult websites" option from the list. Just enter the website URL that you want to block under "Add Website," and it should do the rest.
If you don't want to use a Chrome extension, you can still block websites on Google Chrome with a Google Admin account. Check out more fun Google tricks you need to try.
If you are signed in to Google Admin, click on the Devices tab.
Then, click on the Chrome tab.
Next, click on Settings, then Users & Browsers. We will select the top organizational unit to block a website for all users or a child organizational unit to restrict access for children only.
Once you have clicked on the blocked URLs tab, enter the website URLs you would like us to stop users from visiting.
Click "Save."
Want to block a website? You can use your WiFi router and your Android or iOS phone, computer, or tablet.
First, make sure you're using 192.168.1.1 as the default IP address for your router. On your computer, under System Preferences > Network > WiFi or ethernet, you can find your IP address.
For Windows, go to "Command Prompt" and type "ipconfig." Your home router's IP address will show up under "Default Gateway."
Copy the IP address and go to Chrome. Type it in the search bar and hit enter.
Enter your router login ID and password. If you don't know, you can find it in the box or with your product's documentation.
Go to the blocked site settings page on your device. For example, on Netgear routers, blocked site settings are found under the Security tab.
You can block websites on your router to stop them from loading on WiFi-connected devices. To do so, simply go to the "Block Sites" section and type in the keyword or domain names of the websites you want to block.
Then click "Add Keyword" to save the blocked website on your router.
How to unblock websites on Chrome?
Have you ever blocked a website and then later changed your mind? Luckily, unblocking websites on Chrome is easy!
To unblock blocked sites on the BlockSite app:
1) Tap "Settings" and
2) delete the desired website from your list using the red button. To unblock sites on the BlockSite extension on your desktop:
1) Click the shield icon and
2) go to Settings > Blocked Sites.
If you have blocked a website on the URLBlockList in Chrome, you can remove it by going to the URLBlockList menu and clicking "Remove URL." If you want to unblock a website on your WiFi router, go back to the site settings and click "Delete Keyword."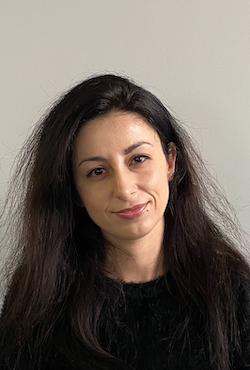 Nadejda Milanova
An experienced Content creator in the field of Search Engine Optimization (SEO) and WordPress. A true proffesional with a Master's degree focused on journalism.
Read more by Nadejda Milanova