You have a WordPress site and a customer wants to contact you, whether it is a product, business offer, order or something else. How will he do it? By phone, email or other contact option you have specified… In this article we will look at the top plugins for adding a contact form in WordPress.
Why is it important to have a contact form?
Every website, whether it is a personal blog, online store or company page, needs a contact form so that users can contact you. Of course, you can choose to provide a contact email, but here are a few reasons why a contact form is a more effective solution:
saves time and is a great way to allow your users to communicate with you quickly;
spam protection in your email;
control the collected information.
What are the most popular free plugins for adding a contact form in WordPress? In the following lines we will look at the most popular contact forms for WordPress:
How do I add a contact form to a WordPress site?
1. Contact Form 7
Contact Form 7is the most popular plugin and is used by millions of websites. It allows you to manage many forms of contact as well as customize the fields. The form supports Ajax submission, CAPTCHA, Akismet spam filtering and so on.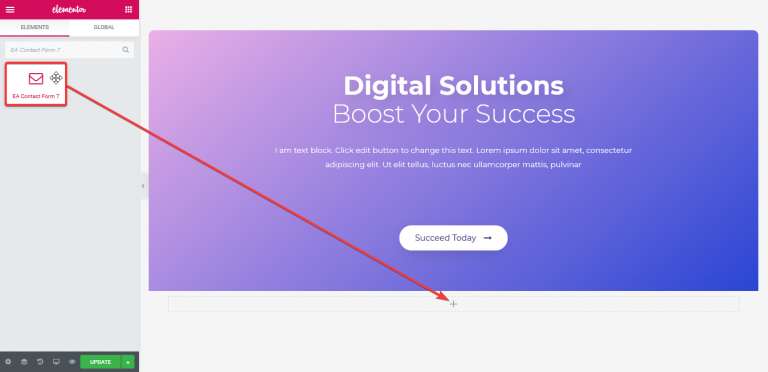 2. Ninja Forms Contact Form
Ninja Forms Contact Form is an extension with which you can create an interactive contact form with little effort.
Ninja's main WordPress form designer is 100% free. You can build complex shapes in minutes with a modern, easy-to-use, drag & drop builder. The main features of Ninja Forms include:
Drag & drop shape constructor
27+ flight types
Regular updates
Special support
Customizable shape templates
Fully responsive, SEO and mobile form view
Perfectly matches the design solutions of your topic
Translated into 16+ languages
Easy compliance with the GDPR of WordPress
Unlimited forms
Unlimited filling in of the forms
Export of replenishments
Personalized email notifications of any form
Spam protection, including Akismet and Google reCaptcha
Export and import
Share a link to a public form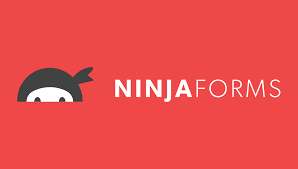 3. Visual Form Builder
Visual Form Builder allows you to create and manage all types of forms for your site in one place. Creating a fully functional contact form takes just a few minutes and you don't need to have knowledge of PHP, CSS or HTML.
Features of Visual Form Builder
Add fields with one click
Rearrange with drag & drop
Simple but effective, logic-based anti-SPAM system
Automatically stores format entries in your WordPress database
Manage form entries in the WordPress dashboard
Export records to a CSV file
Send completed forms to multiple emails
jQuery check for field validity
Custom confirmation messages
Redirect to WordPress page or URL after filling out the form
Confirmation of receiving an email to the user
Standard and required fields
The shortcode works on every post or page
Embed multiple forms in a post / page
Duplicate shapes with one click
Use your own CSS (if you want)
Arrange your fields in two, three or a combination of columns.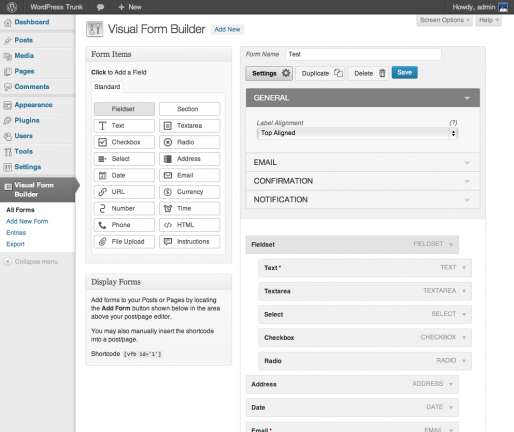 4. Contact Form by WD
Contact Form by WDis free and you can create both simple and complex contact forms. No coding knowledge required.
Contact Form by WD Features
Intuitive tools
Custom HTML between fields
Drag & drop field rearrangement functionality
Page forms
Section breaks
Custom emails for administrator and users
Detailed parameters for each field type
Verification of data before submission (validation)
Conditional logic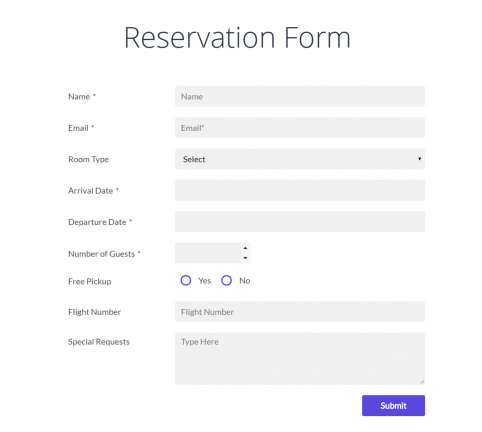 5. Formidable Form Builder
This WordPress plugin is extremely suitable for advanced users. Offers powerful supplements to help you go beyond simple contact forms. You have the ability to use a great drag & drop interface; create advanced forms such as tests, surveys, payment forms, etc.
Formidable Form Builder comes with all the powerful form fields you need to quickly create a solution-oriented form. Here are the features of the free version:
Text box (for names, phone numbers, addresses, etc.)
Email field
Internet address
Paragraph
Radio buttons
Checkbox
Drop-down selection fields
Number fields
Phone number
Hidden fields
User identifier
HTML block (for custom HTML)
Google ReCAPTCHA - Great for preventing spam.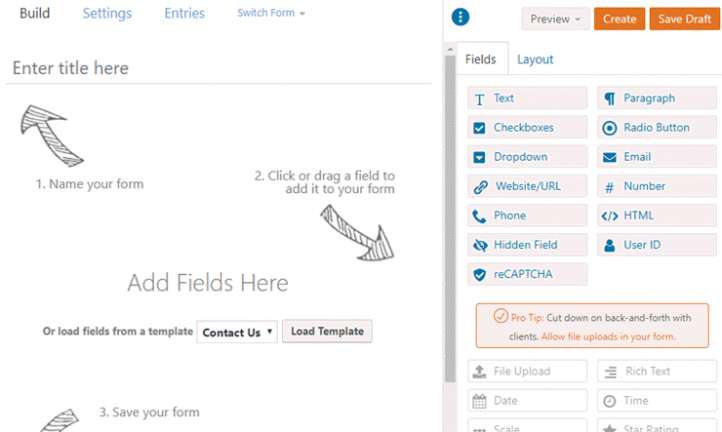 6. HappyForms
HappyForms is a WordPress plugin that allows you to easily manage and reply to messages from visitors to your site. You can easily create contact forms as well as feedback forms, offers, surveys and more.
Features
Drag & Drop shape designer (ready for Gutenberg).
Live preview forms as you create them.
Easily add shapes anywhere to your pages, posts and widget areas.
Add multiple forms to the same page.
Fully mobile responsive forms.
Unlimited forms, emails and messages.
Create layouts with multiple columns with one click.
Easy duplication of shapes.
Confirmation message upon submission.
Confirmation email sent to user.
One-click spam prevention with HoneyPot.
More than 50 styles are built-in.
GDPR and 508 compatible forms and protected forms.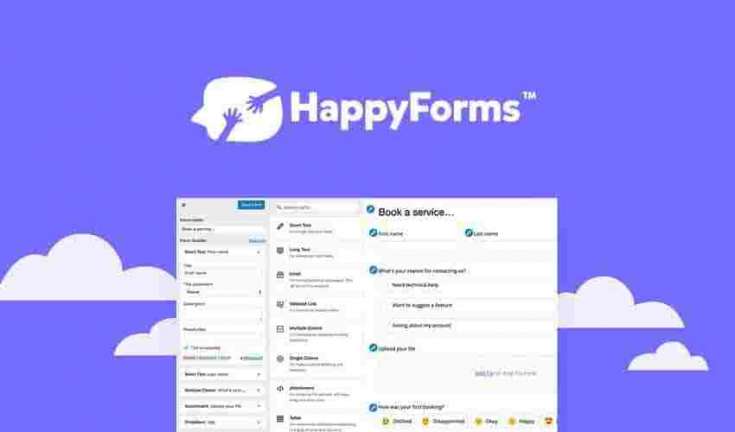 7. Form Maker by 10Web
Form Maker by 10Web with intuitive interface for creating shapes. With this extension you can create forms for almost any purpose, from a simple contact form to a multi-page form, registration forms and a field conditional questionnaire, and more.
Features
Intuitive drag & drop interface to build complex shapes with just a few clicks.
Suitable for mobile devices - Your shapes will look great on all resolutions and devices: mobile devices, tablets and desktops.
Field Types - 43 different form field types to help you create exactly the shape you need.
Easy to embed - Show your shapes as pop-ups, top bars or scrollbars, or embed them in blog posts.
Pre-built templates - Choose from five form template options to save time.
Fully custom themes - Use one of fifteen beautiful themes to make your shapes match the design of your website.
Response Management - Set up automatic email responses, track and export all records, and more.
Spam protection - Block IP addresses and set a captcha to avoid spam.
Receive payments * - Receive payments and donations using integrated PayPal and Stripe.
Conditional Logic - Build forms with complex conditional logic.
Multi-page forms - Divide long forms into pages to provide a better user experience.
Upload files * - Your users can upload files to your forms. • Premium version only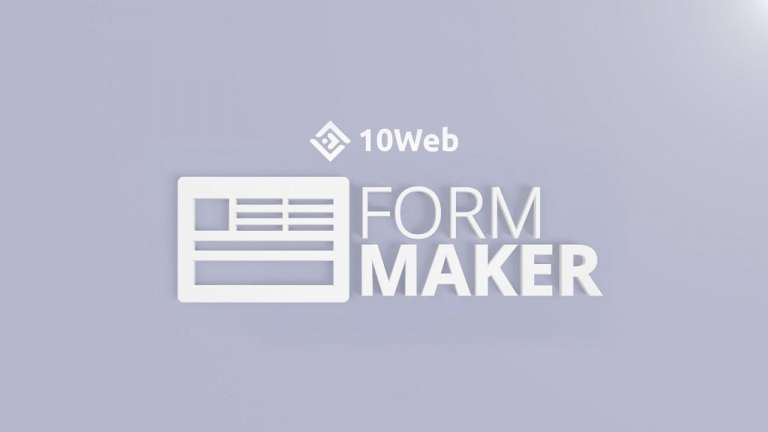 8. Contact Form by WPForms
Contact Form by WPForms](https://wordpress.org/plugins/wpforms-lite/) includes all the basic contact form features, including basic form fields, email notifications, and a thank you note for completing confirmation. You can make settings and receive personalized email notifications. Fully integrates with all popular email marketing and payment platforms.
Features
Online Form Build - Powerful drag-drop form builder lets you easily create contact forms in WordPress and other online forms in just minutes without typing any code.
100% responsive contact forms for mobile devices.
GDPR Friendly - Make your GDPR contact form compatible with just a few clicks.
Templates - Use pre-built shape templates to save time.
Spam protection - WPForms uses intelligent CAPTCHA and Honeypot methods
Immediate notification of the form - Quickly respond to incoming inquiries with our contact form instant notification system.
Smart Form Verification - Show a personalized success message or redirect users to a custom thin page.
Upload files - Collect files and media using your File upload contact forms.
Multi-page forms - Divide long forms into multiple pages with progress bar to enhance the user experience.
Intelligent conditional logic
Signature forms - Create signature forms or add a signature field to your contact form, application form, reservation form, etc.
User Registration Forms - Create a custom user registration form and a custom WordPress login form
Publish posts - Collect user-submitted content in WordPress with our front posting form. Great for guest posts, testimonials, business directory, listings and more.
Geolocation - Show location information to your users.
Custom Captchas - Create custom captchas for your contact form.

Surveys and surveys - Easily create survey forms and analyze data with interactive reports.

Abandon forms - Unlock more leads and grow your business by submitting a partial form.

Lock forms - Manage form permissions and add access control rules, including password-protected forms, member-only forms, restrict access to a person's contact form, close a form after a certain date / time, etc.
Offline forms - Allow your visitors to save their entered data offline and send it when their internet connection is restored.
Form Landing Pages - Create landing pages without distraction to increase conversions. Great alternative to Google Forms and Wufoo.
Conversational Forms - An interactive form layout that makes your form feel more human and increase your overall fill rate. Great for surveys and registration forms. A perfect alternative to Typeform for WordPress without the high cost.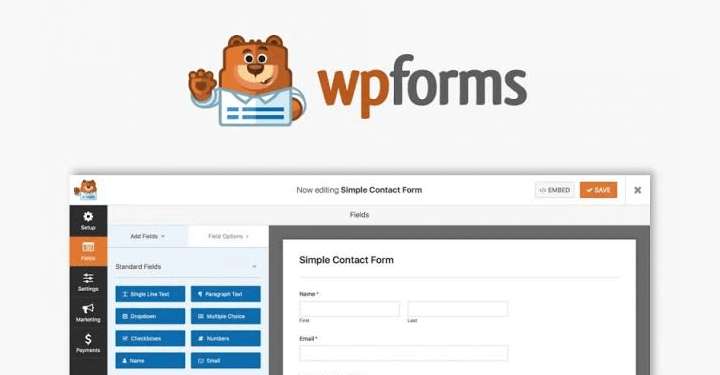 Using one of these WordPress plugins, you can create a contact form quickly and easily. When deciding which plugin to choose, keep in mind both your needs and the needs of your customers.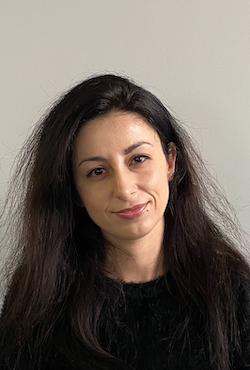 Nadejda Milanova
An experienced Content creator in the field of Search Engine Optimization (SEO) and WordPress. A true proffesional with a Master's degree focused on journalism.
Read more by Nadejda Milanova