If you want to start an e-commerce business or side gig, you need a website. The website gives you trust and helps you reach a wider audience. To create your website, you need a platform to help you in the process.
Most people turn to Shopify, but this is hardly your only option. Let's take a look at some of Shopify's alternatives that are just as great, if not better.
What is Shopify?
Shopify is an e-commerce platform that allows you to create an online store to display and sell your products. The e-commerce platform is the preferred choice for many online sellers. Shopify helps you lay the foundations of your business as you imagine it, and continue to build it over time as it expands.
Shopify is user-friendly and you don't need to be an expert to start using it. If you are new to the platform, there are courses you can find to help you manage a successful Shopify store.
But Shopify is not the only platform that helps people through this process. There are many other platforms you can turn to, and below you will find some awesome suggestions.
Squarespace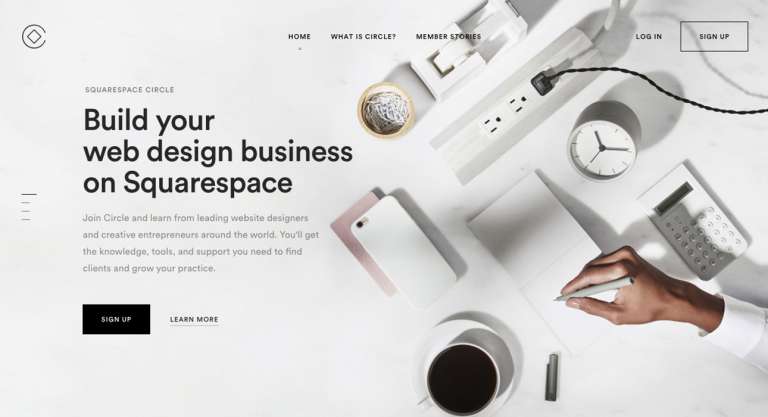 Squarespace is a well-known website builder that does not require any skills or knowledge to use. It offers impressive templates and designs, and its features allow you to customize your site in a professional way.
The platform boasts affordable plans, each offering different bonuses with different price tags that you may find useful. But it's a fairly common occurrence for various YouTubers to be sponsored by Squarespace and offer sign-up promotions.
One of the main negatives is that Squarespace processes payments only with PayPal and Stripe. So, although Squarespace itself will not charge you transaction fees, the other two will. Squarespace's marketing features are also a bit limited, so it doesn't outperform Shopify in terms of features.
BigCommerce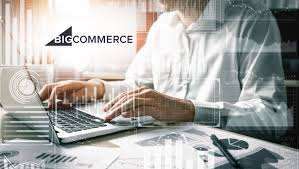 BigCommerce gives you everything you need to create the perfect website for you. It has plenty of templates and themes to choose from. It also offers Akamai image manager at no extra cost, so you can optimize images for both browsers and mobile devices.
A missing feature of Shopify that you will find in BigCommerce is inventory synchronization. As the name allows, the feature allows you to sync your inventory and streamline sales across all channels. The inventory synchronization feature can help increase your sales and give BigCommerce an advantage over Shopify.
Volusion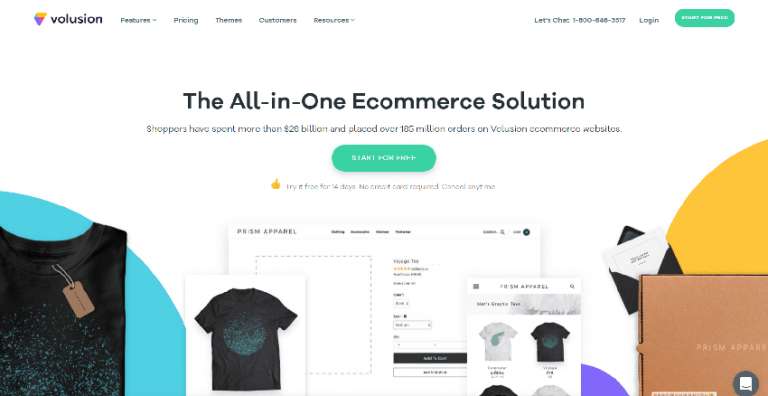 Volusion and Shopify are similar in many ways. Both offer a 14-day free trial, similar prices and free shipping. However, Volusion stands out with a more extensive catalog of themes that you can customize as you wish.
The cloud shopping cart is excellent for small businesses that do not have excessive technical skills. The platform has a management system that allows you to go through orders to improve the processing. It also gives you access to built-in SEO tools that can help improve your listings.
Depending on the plan you receive, you will need to consider the monthly bandwidth limitations, but it is still a good alternative to Shopify.
Magento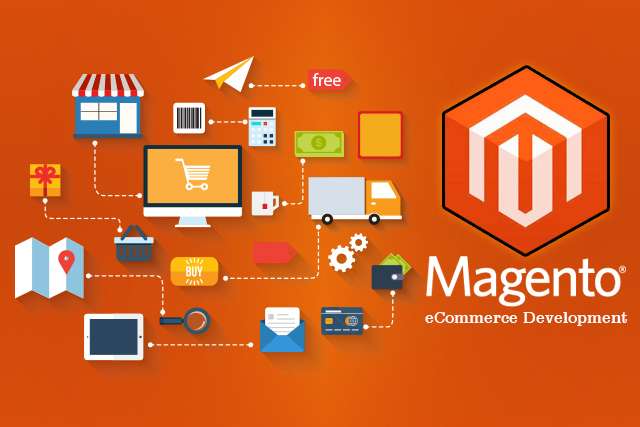 Magento is a free open source platform with plenty of features, themes, and templates. You have access to thousands of extensions and you can customize every aspect of your e-commerce store. The platform also provides you with multiple directory management, SEO, marketing tools and is designed to withstand heavy traffic.
A major downside to note when it comes to Magento is pricing. Although the software is free to download, you incur other costs if you choose to use it. For example, you will have to pay for web hosting, web development, and everything else you may need to run and maintain your site.
The Magento system is not for novice users, but rather for those more experienced in coding. If you do not have any knowledge or skills in this area, you better look elsewhere.
BigCartel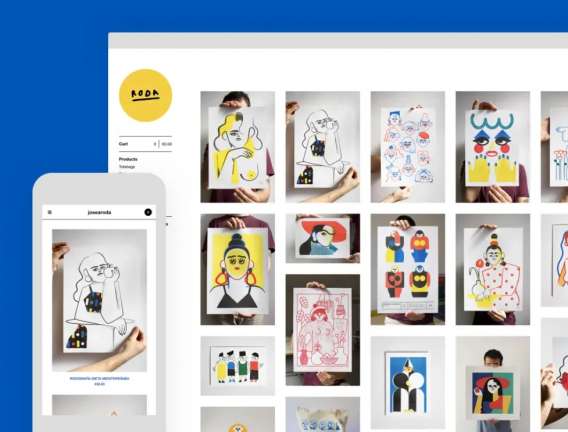 BigCartel is ideal for you if you have a small business. It doesn't have as many features as Shopify, but don't ignore it. It has all the necessary features, is easy to use, is accessible, and offers unlimited bandwidth, as well as customization of HTML and CSS, among other things.
To use it, you do not need coding experience, and it integrates with PayPal, Google Analytics, and Facebook. BigCartel will not charge you extra us transaction fees, but PayPal will do it. Another downside to keep in mind is the lack of phone support or live chat.
BigCartel offers a free trial, you can test it before committing to one of its plans - it offers four, one of which is free. The free plan limits you to five products and one product image. But if you're a small business starting out, this may be perfect for you.
Wix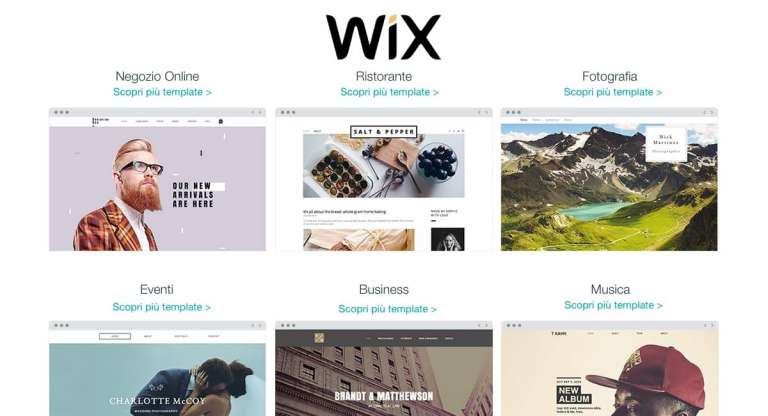 Wix offers you a simple interface and many templates with custom themes. It is easy to use and set up, suitable for both beginners and experienced users. Wix also offers a free trial and then four affordable plans.
The Wix app store has over 280 apps, plug-ins and add-ons that you can embed in your store. It also offers tutorials if you need them, a drag-and-drop editor and works with many payment gateways.
Some negatives include how many different bandwidth limitations the plans have, so think about that before you commit to one. Also, SEO doesn't seem to be as good as Shopify, and Amazon's integration is lacking in comparison. However, this provides a solid alternative.
Shift4Shop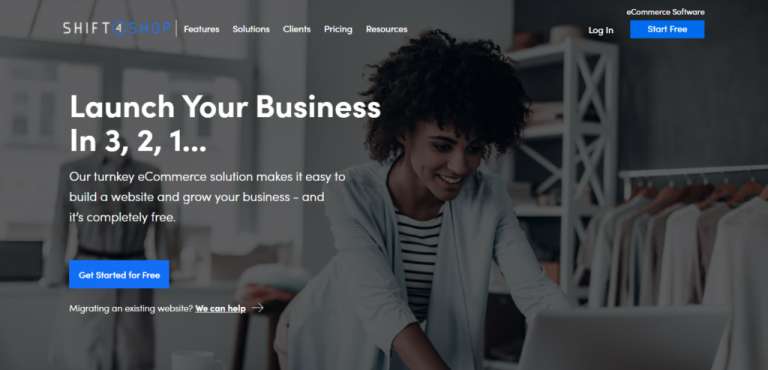 Shift4Shop shares many similarities with Shopify. Both e-commerce platforms offer built-in features to help you build, manage and grow your online store. Shift4Shop also gives you access to various templates and themes, allowing you to customize everything to your liking. And it is easy to use without requiring special skills or knowledge.
Unfortunately, the platform does not offer a free trial, but there is a free, unlimited plan that you can choose from if you use its Shift4 payments to process your credit card. In addition, you can use over 160 alternative payment methods in Shift4 Payments.
Like some other platforms, Shift4Shop offers built-in tools that include everything you need for your store. You receive payments and delivery, marketing, inventory management, and customer relationship software at no extra cost to you. This is a platform worth considering.
Conclusion
Shopify is a well-known and used platform for a reason. It offers many benefits and people seem happy with most of what it gives them. However, this is far from perfect. If you find too many negatives associated with Shopify, such as plan pricing, transaction fees, or something else, you can use many alternatives instead.
Remember that the best Shopify alternative is one that perfectly suits your needs, skills, and budget. So do your research and make an informed decision about which direction is best to take.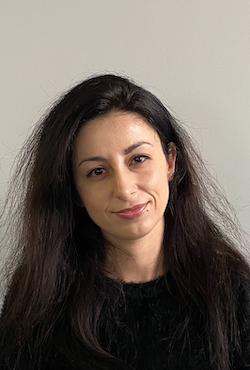 Nadejda Milanova
An experienced Content creator in the field of Search Engine Optimization (SEO) and WordPress. A true proffesional with a Master's degree focused on journalism.
Read more by Nadejda Milanova