Webinar software became a godsend during the past few months. Millions of businesses turned to remote working as the norm, so some kind of conference or webinar software was hotly desired. And it still is; many companies want to make remote working part of their normal working approach even after normalcy is returned. Webinar software is not the same as conference call software. It's usually used to present, sell products and teach customers, clients or employees.
Webinars can be used for training programs such as when you need to onboard new employees. It can also help current employees learn new software or equipment. Not to mention, webinars can help to present and explain products to distributors and foreign clients. It's a vital component of your online outreach plan and it's incredibly important you consider which type of webinar software is important for your
Webinar vs conference call
You might be thinking, why you shouldn't just utilize a conference call software, that is free like Zoom. Conference calling is not the same as webinars. Conference calls are just the basics. It's about replicating real-life calls on the phone but with video. You can host a meeting all right but you don't have many features which help to present and explain reports, marketing strategies, and more.
Webinar software has countless features that allow you to present a show, teach a lesson, training program, show statistics, charts, graphs and videos. This is brilliant for a business that trains businesses in health and safety, analyzing HR policies and presenting a new software, method or report. Webinars are for businesses that would like to pitch to clients, present very detailed reports, and allow for maximum attendee interaction.
In short, conference calling is for everyone, webinar software is for business purposes.
Costing plans
All of the most modern webinar software services offer a subscription-based plan. However, they are usually focused on annual plans, rather than monthly. This does mean that they lock you in for 12 months at the minimum, but you can expect improvements to be made to the platform within that time period. Conference call software doesn't feel the need to improve at such a pace because it is basic and it is free.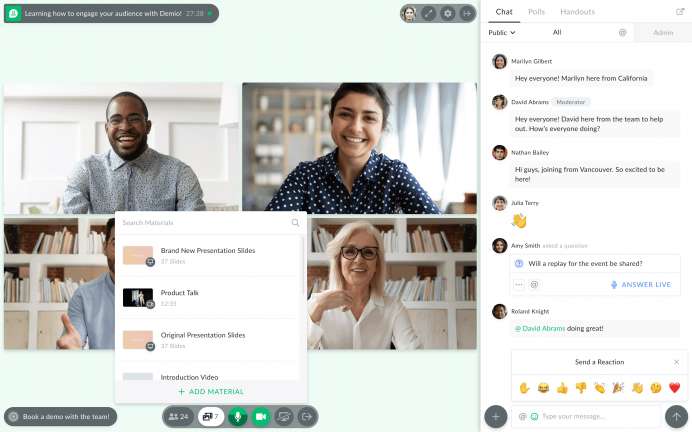 Demio call themselves a hassle-free webinar software, specifically aimed at marketers. Right off the bat, you can tell they are focussing on businesses who are seeking to market products via video, online to their clients. Small businesses seeking to enter into the import market and enter into new markets consequently, will want this kind of webinar software.
They have a few key features you should know about
You can upload slides. This is obviously the most basic thing you need. It helps to show your clients graphs, charts, statistics, beautiful pictures of your product being made, designed, etc.
You can also share videos. It's great to show a promotional video of your brand, product or service to clients who may want a little more stimulation to be convinced. It's also helpful to have video just in case your clients don't always speak English and need visuals to see what it is you do.
You do not have to download it. It's totally based on the web. This is vital for those who are not tech-savvy and don't know how to download and install software they get from the web.
The webinars can be live, hybrid, automated or even on-demand. Live webinars will mean you can present your brand in real-time. Hybrid is a mixture, so you can show a video of a past webinar and then interject with a Q&A session at the end. This proved very popular in 2021 webinars. Automated and on-demand is just an access design that anyone with permission, an account or the link to the webinar can view in their own time.
Chat is built into the webinar software which is standard. Demio do offer a free trial so you can see what it would be like to use it, with all the features. Perhaps the best feature is, it can host up to 500 attendees at the same time. That is colossal bandwidth and makes for an incredibly versatile platform.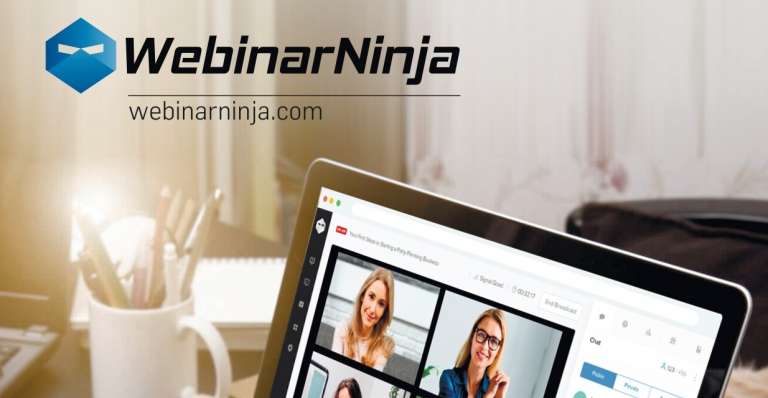 This webinar software has been designed with podcasters and online creators mainly in mind. So you can expect this kind of software to be very popular with YouTube creators, Podcasters who incorporate live shows, and even radio show hosts.
First off there is nothing to download. This seems to be becoming the norm. Brands realize that their webinar software has to be utilized just like other software that the majority of people use. In other words, downloading, installing and storing files on a hard drive is just old-fashioned. Everything is online and on the cloud.
Here are some of the features.
Text chat is in-built into the system, but so is voice chat. Everyone with a mic can talk in the webinar if they have been given permission by the host.
There is a Q & A area instead of mixed into the webinar. This is brilliant for podcasters, content creators and radio shows because it allows questions to be separated from normal comments. This way, the area can be used for a specific purpose instead of merging it with the entire show or video.
There is a feature to take polls. So if you have a question for your audience and want some feedback, you can send a poll to everyone attending to gain it.
Make offers during the webinar, using your own discounts and sales campaigns in real-time.
They also have their own mobile app so you can host or attend webinars wherever you are.
They also have a 24/7 dedicated support team.
One of the best things about WebinarNinja is, on their platform they have a search bar. So, anyone can find your webinar while on the platform. This way it's not a cut-off system whereby a link is needed to find your webinar.
WebinarJam
Straight away, the thing that should hit you on the chin about WebinarJam is, they have a webinar platform that allows you to have 5,000 attendees. This is simply incredible. It's the type of webinar you would want if you have a large audience. So if you are a personal coach, professional trainer of other professionals, you want to host a competition and need an online audience as well as in-person, this is the platform for you.
These are some of their features
HD video on all platforms, phone, tablet, desktop, laptop, etc.
Upload and use a Powerpoint as well as Keynote presentations. This is vital for presenting products to clients and potential business partners.
The platform itself has a registration page builder. So you can direct people towards the webinar link and it will have the sign-up process on the page. It makes things simpler and easier to gain attendees.
You can send out email reminders to all attendees. The platform can even send SMS reminders if clients have shared their phone numbers. It saves you the trouble of having to chase people up.
Do real-time polls and surveys to gain feedback from your massive audience.
You can also charge per presentation, which is great if you work freelance.
You can integrate a lot of different features like you would extensions for your search browser.
Show clickable discounts, offers, sales in the webinar itself. This is brilliant for obvious reasons.
By far WebinarJam is one of the most popular 2021 webinars because it has such versatility. All the features you would want and more are present and the real party piece is the number of attendees you can invite.
Livestorm
With a nice clean and simple design, LiveStorm is great for smaller webinar users. They offer a little bit of everything. They offer live webinars that can host 2 people, or up to 1,000+. They also have on-demand webinars, so if you work freelance or you are a firm of some kind, you can offer your services in this form. Businesses who need training programs for their employees, can just pay for what they need from your website and buy or rent webinars you have made in this regard. They also have automated webinars which you can place on your pages if you have some kind of need to present ideas or interviews to customers who click on certain pages.
Here are some of its feature
Integrate most video streaming services such as YouTube and or Twice. This allows you to host your podcast, presentation, or training program across the world and beyond the gates of the platform.
You can have one landing page, with multiple events. This way you can keep the same link for many webinars and lessen your accidental drop in numbers of attendees.
You can also share your screen with the other attendees to show what you are looking at. This is great if you are having a webinar with clients and want to show them a particular part of your report.
You can also add guest presenters, so it's not just you and sharing your screen. Others can have presenter controls on their screen so they can present well.
There are plenty of custom branding options, allowing you to make your own registration forms, questionnaires, surveys, polls, etc. These can all be designed in your color themes, have your logo and slogans, etc.
Not to mention, you have a plethora of reports and analytics to study after the webinar. This helps you see what your audience is up to, what kind of person shows up to your webinars, etc.
Custom emails and reminders can also be made in your branding. This is great for working on feedback or increasing attendee rates.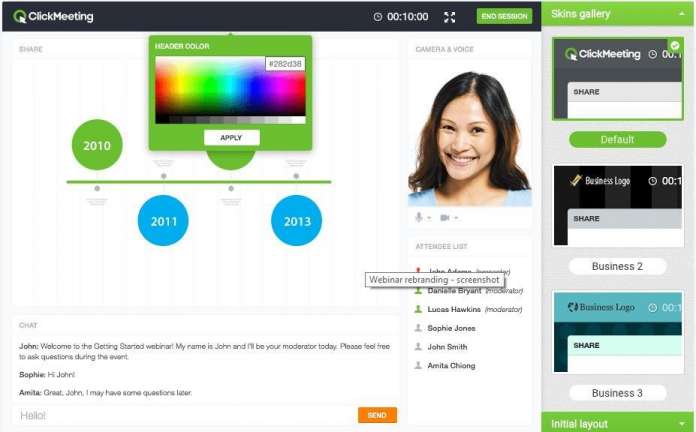 ClickMeeting has a lot of features that the other webinar software does but they have a few that are totally unique to their platform. Webinars are not like conference call software, because there are far more features to enjoy. Conference calling is just about voice chat and sometimes, some basic presenting features. So anything that is more advanced is going to be ideal for your business regarding webinars.
Here are some of their features.
They have a large whiteboard. It's good to use this to show what you mean if someone doesn't understand your statistics, charts, graphs, etc.
Custom branding comes as standard. A big issue with webinars is that they want their own branding in your video. However, you can have your own logo in your videos which protects your content.
Subaccounts are a great feature. If you are a sales business that provides training, you can allow multiple people to have accounts linked to your account. So your fellow trainers don't have to set up their own accounts, they can just log into their own account which is latched onto your own.
During your webinars you can do live polls and surveys. This helps with audience engagement, live feedback and free marketing feedback on your various products and services.
Customizable call to actions also come as standard. At the beginning and end of your presentations, or pitches, you can have an automated call to action. This saves you from needing to do this at the end of each video.
You can record your webinar, explore your stats and share your webinar on all social media platforms. These features are integrated into the system.
The free trial allows for 25 people to attend and lasts for 30 days. Depending on the plan you choose, you can have up to 1,000 people or more.
If you would like to know more about webinar software and which type would be the best for you, or how you can host your webinars, feel free to contact us today. We have a live chat service that is open 24/7!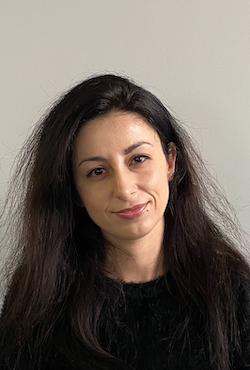 Nadejda Milanova
An experienced Content creator in the field of Search Engine Optimization (SEO) and WordPress. A true proffesional with a Master's degree focused on journalism.
Read more by Nadejda Milanova