Every business organisation collect endless data about its customers, their finances and website traffic. But is there any use of all of this information?
With the help of business intelligence software you can shift through all of this data and raw information and make the whole process a lot easier. There is an easier way of figuring out what is really happening.
Don't be overwhelmed of all of this data points and interactions, as business intelligence software will allow you to analyze and properly organize this massive amount of information in a much easier and quicker way.
What is a business intelligence software?
Business intelligence software is actually a set of tools which companies use to analyze and transform different types of data into useful business information. Such business intelligence tools include data warehousing, data visualization, reporting, and dashboard. Business intelligence software get information from the internal data which the business produces, and not from outside sources.
Recently business intelligence software has gained popularity. A number of companies generate, track, and gather data at a never-before-seen scale. But all of it is useless unless you can read it properly, as well as predict and improve different outcomes.
In order to make informed choices, business organizations need to base their decisions on facts. The data being produced by companies and customers contains information of market trends and purchasing patterns. By analyzing all of this data, businesses can have a better understanding of their clients, forecast revenue growth and protect themselves in crisis.
Business intelligence has slowly taken the form of quarterly or yearly reports, but with the help of business intelligence tools you can work constantly at an astonishing speed. By having these insights, you can help your company choose the proper course of action in just a matter of minutes.
Business intelligence software can read oceans of business and customer data. These tools are represented in the forms of many different types of technology. Today we will compare the best business intelligence software on the market and help you choose the appropriate one for your business.
Why do you need business intelligence software?
In today's digital reality, all companies have enormous amount of data. Inside this data lie breakthroughs on how to make or destroy company processes, as well as performance. So, why shouldn't you use business intelligence software? The information you can import from this data is infinite, but there are three main reasons why you can take advantage of such tools.
Data driven decision-making
If you are looking into digitalizing your organization, then the best way to do this is by becoming a data driven company. By making decisions based on actual data, you can optimize your company and achieve its fullest potential. This concept should be embraced by every employee in the company, and not just leadership. Organizations should be leveraging business intelligence tools and analytics in order to get a better understanding of every aspect of the business, which includes marketing campaign strategies, hiring forecasts, sales prospects which you can target, supply chain optimization, and much more. Each of the decisions around these business aspects should be filtered by using information and business intelligence software. Leaders and managers need to ask the question What data was used when making each decision.
Measuring company performance and having a clear understanding of it
Another major reason why businesses need to adopt business intelligence tools is for measuring company goals. Data visualization tools are often used when tracking company key performance indicators. Self-service business intelligence software and business intelligence platforms can both be used in order to determine why the business is either falling short or exceeding in crucial company metrics. So, for example, if your team is short on a specific target, they can use the information gathered to get back on track. It's one thing to know that your sales numbers are lacking but it's completely different to figure out the reason behind it and adapt properly to the situation.
Potential new actionable insights
Business intelligence gather data from different sources, which can include accounting or enterprise resource planning software, marketing organization tools, CRMs, and others. Data analysts can take advantage of this information and find correlations between actions and different departments, thus discovering hidden insights. It's quite possible that some sales tactics have a different impact on the numbers of one product compared to another.
Different types of business intelligence software
There are a variety of different types of business intelligence software which often overlap in functionality but in the end offer users the services they were looking for.
Business intelligence platforms
This is the most common type of business intelligence software. These platforms take the form of analytics tools which can be used by professional data scientists and analysts. They also require a certain level of data preparation knowledge and coding. These solutions connect to databases and offer analysts the chance to work with data and provide insights. Some business intelligence platforms include advanced analytics features, big data analytics, and let's not forget, the ability to ingest unstructured data. Also, they can offer self-service functionality so that business users can take advantage of the tool. Self-service business intelligence software
For organizations who are interested in promoting more data driven culture, this type of software is critical. Such tools do not require any coding knowledge, so that business users can take full advantage of them. Self-service business intelligence software provide drag-and-drop functionality when building dashboards, prebuilt templates for querying data, as well as natural language querying for that discovery. This way, users such as human resource managers, sales representatives, marketeers, can make data-driven decisions. This saves tons of time for administrators, users, and data teams.
Embedded business intelligence software
Certain type of software offers the ability to embed analytics functionality inside other business applications. Quite often, we are talking about the same vendor that provide business intelligence platforms and self-service business intelligence software. They offer better solutions by allowing developers to embed this technology inside other apps. By placing the analytics inside often use software, companies ensure that their employees will take advantage of the available data. These types of solutions offer self-service functionality so that average users can take full advantage of the information provided to improve their decision-making.
Data visualization software
If a business takes interest in just tracking key performance indicators as well as the other important metrics, they can use data visualization software. Such products allow users to create dashboards so that they could track company goals in metrics in real time. However, users are not permitted to drill down into the information so that they can discover deeper insights. By having a better understanding of where a business sits with specific company goals and key performance indicators, they can improve certain areas in order to achieve these goals. With data visualization software you get multiple KPI dashboard, which allows each team to set up visualisations for their individual goals. With these tools you can consume data from a variety of sources, similar to all other business intelligence tools, like business applications and data bases.
Location intelligence software
This software has spatial intelligence and is used as a subset of business analytics providing insights based on spatial data and maps. These tools offer assistance to users so that they can determine relationships between the location of objects. Similar to this, a user can locate patterns in sales or financial data with business intelligence platform, that the analysts can use location intelligence stores to find the perfect spot to open their new boutique or a restaurant for example. These tools can be integrated with already existing analytics tools or be separate from business intelligence tools.
Now that we have established the different types of business intelligence software, let's take a look at the best tools available on the market.
Zoho Anaytics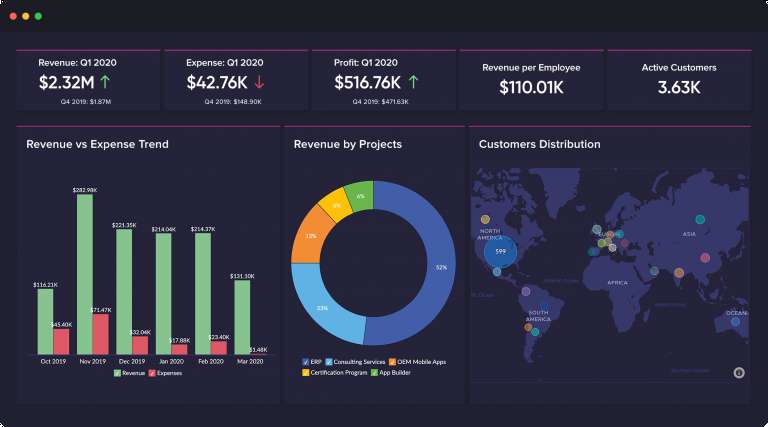 More than 2 million users and 500,000 companies worldwide are using the services of Zoho Analytics. Well-known brands such as Hyundai, HP, Suzuki and IKEA have put their faith in this tool.
Compared to some other solutions we will talk about later, Zoho Analytics is extremely user-friendly. If you are new at business intelligence software, you will not face any issues with this tool.
It provides you with a visual reporting, which users can easily navigate through, having the option to create and to view their own custom reports which are easy to comprehend. Some of the other features and benefits by Zoho Analytics include:
Option to embed analytics into your website, application or a web portal.

Can be integrated with over 500 tools.

Option for team collaboration in a secure way

Augmented analytics

Blends data from multiple resources into one dashboard

Has access to the health of your whole organization and each department.

Can customize the reports with the help of a drag and drop dashboard.

Has white labelling capabilities
Zoho Analytics is probably the most user-friendly business intelligence software available on the market today. The subscription plans start at $22 monthly, while you also have the option for a 15 day free trial
TIBCO Jaspersoft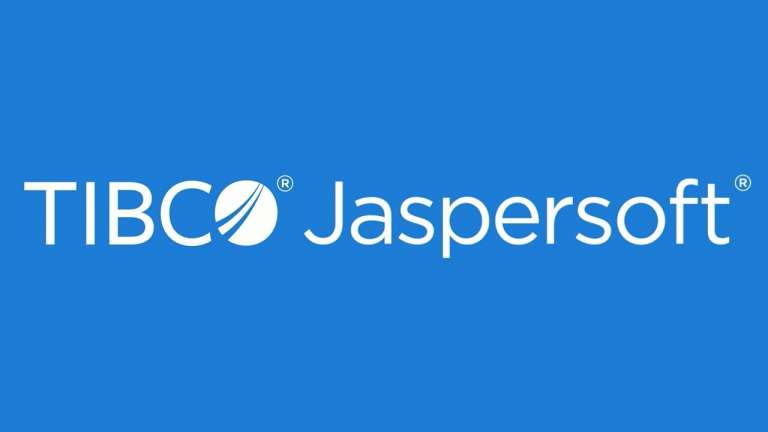 TIBCO Jaspersoft is known as a developer-friendly BI solution. It uses embedded business intelligence, bringing its power into your companies' applications.
The dashboards are displayed inside the interface of the application improving the user's decision-making in real time.
More than 500,000 developers in different industries rely on TIBCO Jaspersoft for improving applications for millions of users globally. Some of the reasons why you might decide to use this tool include:
Customizable visual reports

JavaScript API used for embedding

Multitenant support

Ad hoc self-service reporting

Big data connectivity for real-time analytics and native reporting
The uniqueness of this tools lies within the fact that it's created for developers but significantly enhances decision-making in big-data connectivity for real-time analytics and native reporting.
You can get 30 days free trial and check if this is the software for you.
Entrinsik Informer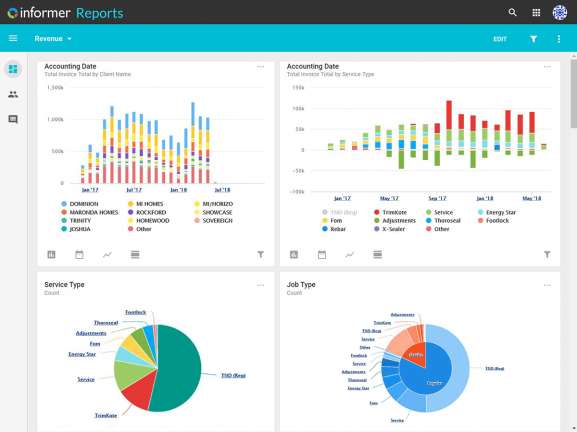 Entrinsik Informer is a fantastic choice for large corporations which are looking to collect data from multiple sources and are in dire need of figuring out all of this information within different departments.
With this software you can easily connect data from spreadsheet, the cloud, traditional databases, unstructured web data, Enterprise applications, and much more, and aggregate it into one single source.
It's a very popular choice for education, insurance, manufacturing, distribution, and even government organizations. Some of the noteworthy features include:
Very powerful data visualizations

Streamline data workflows

Option to evaluate the roles of different end users in your organization

Aggregated data flows for higher quality data

Flexible architecture which provides endless extensibility
If you're looking for a fast and simple way to discover intelligent data, this tool is right for you.
Sisense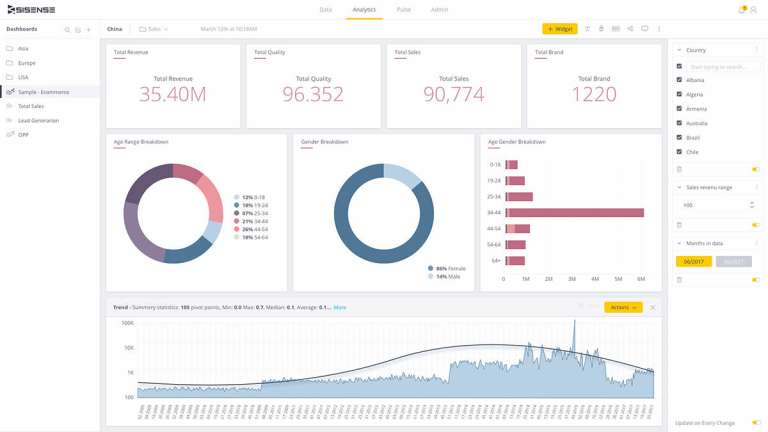 Sisense is one of the most popular business intelligence tools on the market. It's being used by business leaders, developers, product managers, and all types of data professionals.
It's trusted by over 10,000 companies, which include Motorola, HP, Wix, GE, and the Salvation Army.
The software provides industry specific solutions and categories like healthcare, manufacturing, retail, marketing, government, supply chain management, and many more. It provides solutions which are they worth the awards specific departments inside your
Some of the features worth mentioning include:
Option to create powerful analytics apps

Each user has a self-service analytics

Cloud-native data analytics

Option to embed analytics with customization

Ability to integrate with your existing tools

Secure access to data
You don't need advanced technical skills to transform complex information into interactive dashboards.
Charito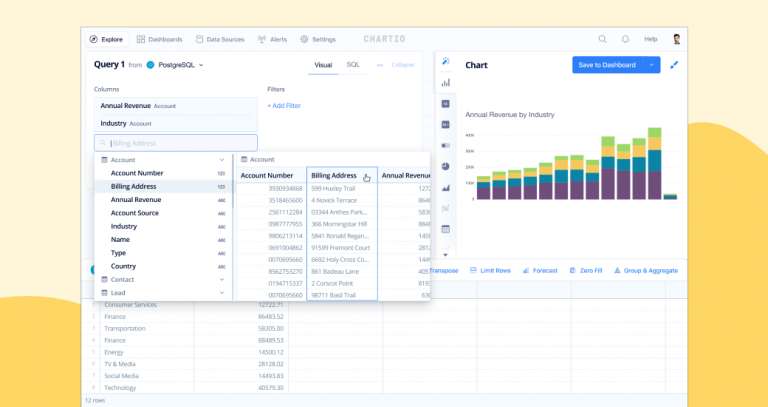 Charito empowers users with different technical backgrounds to properly analyze data from their business applications and easily simplify data with the help of dashboards and charts while making informed decisions.
Here are some of the reasons why you might consider using this tool:
Option to easily share the visuals in Slack, embedded webpages, PDFs, etc.

Different tools for sales teams, product managers, and customer service

Self-service functionality available for all users

Option to easily browse the data with the help of SQL

Connecting data from multiple sources

Team chat and collaboration tools

Creating and saving custom themes
The solution offers excellent support. They provide you with extensive documentation, live training, and access to experienced advisors.
How to choose the best business intelligence software for you?
This can be a challenging task if you are not completely aware of what you're looking for.
If you need to take into account some simple features, elements, and factors which need to be taken into consideration.
The right tool for the wrong company will be of no use at all. Pay attention to some of these aspects when making your choice:
Data sources – where is your data located and where does it come from?

Data reporting – the option to share the data reports with stakeholders, decision-makers, and clients is another important factor you need to consider.

Development tools – some BI software may be able to improve the way you collect data.

Set up and deployment - some business development tools are not that simple to work with and need special customization.

Ease of use – if you're still new at this, don't stress yourself with a tool created for professionals.
Conclusion
BI software has gained enormous popularity in recent years. If you and your company are ready to take data analysis to the next level, using a business intelligence software is the proper first step.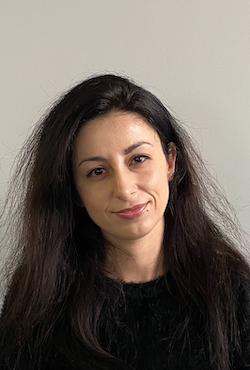 Nadejda Milanova
An experienced Content creator in the field of Search Engine Optimization (SEO) and WordPress. A true proffesional with a Master's degree focused on journalism.
Read more by Nadejda Milanova