Do you have a WordPress website that needs help with search engine optimization? IndexNow is the solution! This new initiative by Microsoft will increase your website's SEO. IndexNow aids in the discovery of new content and quickens SEO results. This article discusses how to add IndexNow to your WordPress site to start seeing quicker SEO results today.
Microsoft and Yandex have recently launched a new project called IndexNow. This is an automatic ping that lets search engines know when a post or page on your site has been updated. Why is this important? It allows search engines to quickly update their site's index, which speeds up the overall process of SEO optimization. Google plans to test this new protocol due to its environmentally sustainable benefits.
Search engines are not perfect. They're inefficient and have a high carbon footprint. To solve these problems, you can use XML sitemaps to alert search engines of new content. It's challenging, though, because the bots visit your site at random times, meaning they might not show up at all some days while they visit on other days.
A bot from a search engine is looking for something. It's a resource-intensive process, and there's something new out there that might be able to help. This company, IndexNow, will help your site receive higher rankings on major search engines.
There's a way to let search engines know when you update your site, and it has the added benefit of being environmentally friendly. IndexNow works by notifying the search engine to let them know when you have a new post or updated an existing piece of content. It's a win-win for website owners and search engines alike. Let's take a look at how to add it to WordPress.
Adding IndexNow in WordPress using AIOSEO
AIOSEO is a WordPress SEO plugin that has been used by over 3 million websites. They are the first WordPress SEO plugin to include IndexNow support, which improves website rankings.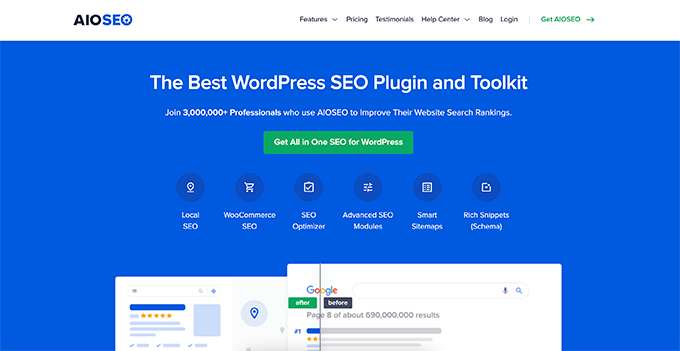 AIOSEO is a must-have plugin for WordPress. Installation is easy with the step-by-step tutorials we provide. The premium version includes powerful SEO tools such as IndexNow and Link Status Checker. There is also a free version for you to try it out.
To activate IndexNow, click the "Feature Manager" from your WordPress dashboard. Then, make sure the "IndexNow" feature is enabled.
IndexNow is a premium service that takes care of all the necessary configuration for you. This AIOSEO-Microsoft collaboration is made for novices. The company automatically generates an API key to connect your website and configures it to work with IndexNow. You don't have to do anything, which is perfect for a beginner.
You can easily see it by going to AIOSEO » General Settings. If you scroll down, you will see a button called Webmaster Tools. When you click that icon, an API key will be pre-configured for your business.
AIOSEO is the ultimate WordPress SEO plugin. It comes with powerful features like Link Assistant, redirection manager, and more.
Adding IndexNow in WordPress by using the IndexNow plugin
While other WordPress plugins have begun to add IndexNow support, few have it yet. If you don't want to switch to AIOSEO, then you can use this option instead.
When you activate, head to Settings » IndexNow in your WordPress dashboard. You need to click Get Started Now. This will automatically generate your API key as well as configure everything.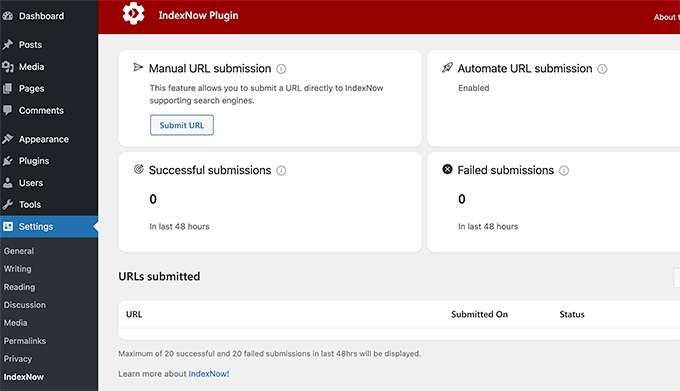 Final thoughts
The importance of indexing websites is a hot topic right now. IndexNow, which is a new initiative, has already been adapted by Microsoft Bing, which is now the leading search engine in the United States. Now, we're hoping that Google will do the same. We've been told they're testing this, and we really hope they adopt it.
You're a small site or a big site. You want to make better SEO. You should install IndexNow. It speeds up indexing and is a dream come true for SEO professionals. Sitemaps are still very important, but you should use IndexNow as well. Together, they will give you an edge over competitors.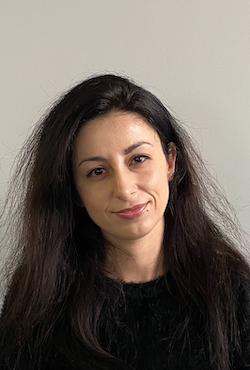 Nadejda Milanova
An experienced Content creator in the field of Search Engine Optimization (SEO) and WordPress. A true proffesional with a Master's degree focused on journalism.
Read more by Nadejda Milanova