An email list can be a powerful marketing tool for businesses large and small. By providing value for free, you can slowly build consumer trust which can lead to increased sales down the road. The best part is, with a little bit of automation, growing your email list with WordPress can be a breeze.
There are many different WordPress plugins and services available to help you grow your list quickly and easily. MailChimp, SendinBlue, and MailPoet are all great choices that offer free plans for smaller sized lists. We personally use and recommend MailChimp, but whichever provider you choose, you can't go wrong.
Here are a few methods to get started growing your email list with WordPress today:
Use a Form in the Sidebar
If you're looking to grow your email list, you can't just rely on a plugin or copy and paste a form. You need to put in some effort to make sure your visitors will actually sign up. This includes writing compelling copy to explain why signing up is a good idea, and offering something of value in exchange for an email address. This could be an ebook, workbook, video course, or free trial of a product. This strategy is often referred to as using a lead magnet. By offering something of value, you're more likely to get people to sign up for your email list.
Add a Sign-up Form After Your Posts
If you're looking to add a newsletter sign-up form to your WordPress site, there are a few different options available to you. You can manually add the code for the form to each post or page, or install a plugin that will handle everything for you.
One great option for newsletter sign-up forms is WPForms. It integrates seamlessly with MailChimp, AWeber, Campaign Monitor, GetResponse, Constant Contact, Drip, and Zapier. Just install the plugin, create your custom form, and insert it on the pages you want.
Remember to craft copy that fits with the voice and character of your website. A little bit of effort here can make a big difference in how successful your newsletter sign-ups are.
Slide-in / Popup Form on Your Site
There are a number of great plugins available that can help you create slide-ins for your website. MailChimp has a slide-in generator that you can use to create a page, and then simply paste the code into the part of the header.php of your chosen theme to use it on your website. Alternatively, there are a number of WordPress plugins that offer more functionality and predesigned themes. Bloom and Sumo are two great options. Or you can use stand-alone lead generation software such as MailOptin, OptinMonster or our personal favorite Optimonk.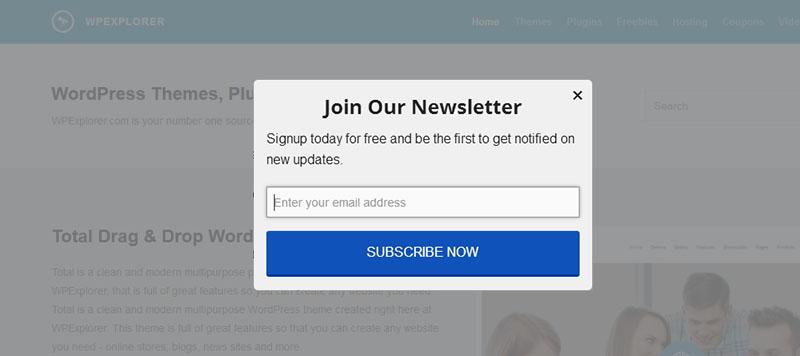 Turn Your Homepage into a Dedicated Landing Page
As a blogger or small business owner, it's crucial to collect emails from your visitors. This way, you can keep them updated on your latest content or products. To do this, you can create a landing page on your homepage that collects email addresses. Or, you can make your homepage into a sort of semi-landing page that focuses on collecting emails. This way, even if people don't sign up for your newsletter or course right away, you still have their email addresses.
Traffic is the biggest factor when it comes to collecting emails. If you don't have a lot of people visiting your site, you won't have a lot of people signing up for your newsletter or course. You can do this by writing great content, promoting your site on social media, and making sure your site is easy to find.
Try with a Guest Post to Funnel Traffic to a Landing Page
A guest post is an article that you write and publish on someone else's blog or website. If you have a good relationship with other bloggers or business owners in your niche, you can reach out to them and pitch ideas for posts that you think would be interesting and beneficial for their audience.
It's important to follow up after sending your initial pitch. Keep it polite and brief, and quickly recap your proposal. Also, while it might work in the short term to email a large number of people based on a template, I advise against this "spam and pray" approach, as it can damage relationships with potential future partners.
To get the best results, pick blogs that are somehow connected to the topics you write about on your site. This could mean choosing blogs that are either directly or indirectly related to your chosen topic. Then, put some effort into researching what type of content is most popular with the audience of those blogs. This can vary depending on the blog, but some places may prefer listicles while others might prefer personal stories.
Once you know what kind of content is most popular, you can choose to either send your readers to a normal landing page or a more specific landing page that is tailored to the particular type of content they are interested in. This could include writing in their language or providing an exclusive offer or deal.
Bonus Tip
This strategy is great because it can be repeated. You can guest post multiple times on the same site. If you put in the time and effort to create a quality piece, it will also help improve your relationship with the person who's letting you use their platform.
Joint Venture
If you're struggling to get traffic, why not try reaching out to other people for help? You can offer bloggers exclusive deals, like a free copy of your ebook/course/product. If your content is high quality and you have a good relationship with some influencers in your field, this could be much easier than you think. Remember to follow up after you make your offer.
Conclusion
Building an audience is essential to turning members of that audience into customers. The first step is getting traffic to your site, but the second step is making sure that those visitors keep coming back. If they don't come back, they'll just be a one-time visitor. But if you can get them to join your newsletter or email list, then you'll slowly start to build a relationship with them. And that's when you can start converting them into customers.
There are a few different ways you can grow your email list: run a newsletter, create an email course, or use other forms of marketing. But if you're still struggling to get people to visit your site in the first place, then focus on methods 5 and 6.
Do you have any tips for growing an email list? We'd love to hear from you in the comments below!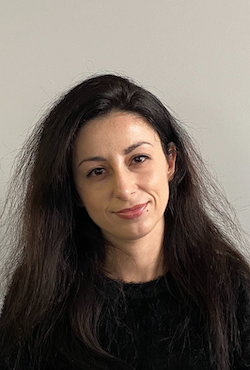 Nadejda Milanova
An experienced Content creator in the field of Search Engine Optimization (SEO) and WordPress. A true proffesional with a Master's degree focused on journalism.
Read more by Nadejda Milanova